It takes them to a village that every child dreams of, where they are welcomed by Father Christmas and his elves who are busy making presents. They find the serious atmosphere rather downbeat, so they decide to throw a big party come nightfall. Dolls, teddy bears, robots, superheros, recycled toys and crazy, futuristic inventions come to life and join the elves in playing their favourite game: 1, 2, 3, Christmas!
Encircling the giant tree in the centre of the square, the toys start the music: 1, on goes the tinsel, 2, up go the decorations in all their pretty colours, 3, throw on the glitter, it's CHRISTMAS!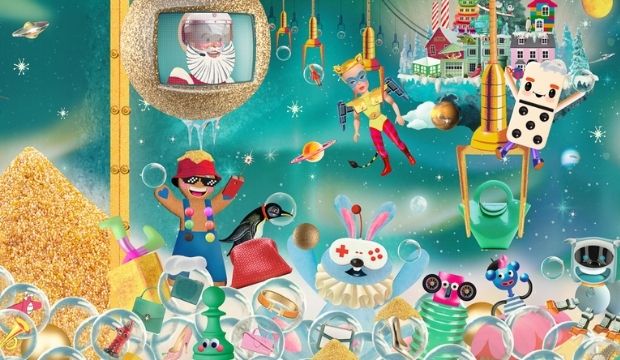 The lights go on and the tree is revealed in all its glory. The toys, elves and Father Christmas stare in wonder and call for another game.
On the evening of 24th December, the whole village sets off to deliver the presents and celebrate Christmas under the Dome. Filled with wonder by the giant tree and the sparkling stained-glass windows, the decide to play their game again: they slide down the branches, adding decorations as they go and sending presents flying everywhere.
When morning comes and Galeries Lafayette opens its doors again, they all freeze underneath the treeto be sure of winning the game. But, every half an hour, when the music rings out once more in the department store they dance around again bringing all the decorations to life.