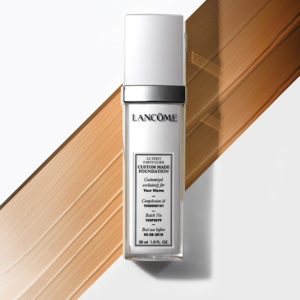 Discover the future of beauty: Lancôme presents Le Teint Particulier Custom Made Foundation.
An original technology detects skin tone to create a unique foundation that matches the wearer's complexion perfectly.
Coming soon to Galeries Lafayette Haussmann!
The fruit of an unprecedented collaboration between Lancôme and L'Oréal Group's new R&I department, Le Teint Particulier Custom Made Foundation, marries luxury, craftsmanship and technology to provide every woman with a freshly mixed, made-to-measure foundation. Le Teint Particulier uses a patented technology that creates a foundation that perfectly matches the skin tone of each individual by predicting an exceptional match.
Because the beauty of every woman is unique and no skin colour is exactly the same, Lancôme's mission is to use the brand's first personalised make-up product to satisfy one of women's most pressing requirements when it comes to make-up: a foundation that perfectly matches their complexion. To do so, Lancôme is going one step further in its colouring expertise.
THE EXPERIENCE
A private in-store consultation starts with a Lancôme beauty advisor taking a scan of your skin from three different places. This data is then interpreted by a highly sophisticated, patented algorithm, which predicts the ideal colour using the three measurements taken from your skin.
The algorithm goes on to determine the correct amount of each ingredient required, and these are mixed together for 20 minutes as you watch, to create a foundation that matches your skin tone perfectly. You can also choose the level of coverage and hydration you require depending on your skin type: in total, Le Teint Particulier offers up to 72,000 combinations. The label on the foundation bottle is also personalised with your name and the number of the uniquely created foundation.
THE TECHNOLOGY
Le Teint Particulier is the most sophisticated personalisation service ever offered by Lancôme. R&I teams have managed to devise an algorithm with a predictive capability that is higher than the colour sensitivity of the human eye, allowing calculation of the colour of the foundation when applied to the skin. This is a true technological feat, since once applied, the colour of a foundation changes as its pigments are reorganised through the process of establishing its hold on the skin.
THE FORMULA
Le Teint Particulier is a brand new formula that encapsulates the best of all Lancôme's foundation lines. Ultra-lightweight, it glides onto skin easily to enhance and/or hydrate it depending on type and leaves an almost undetectable, natural make-up look. Its long-lasting, breathable formula is oil, fragrance and paraben free. The bespoke foundation tones match cool, warm and neutral complexions. The result: fully transparent, luminous skin and a naturally flawless, radiant complexion!
Discover Le Teint Particulier by Lancôme, available now on the ground floor of the main store.