From 6 July to 31 August, Galeries Lafayette is celebrating Paris and the designers too. At the Paris Haussmann store, Francis Kurkdjian, the Cavale and Keur brands and Yves Saint Laurent Beauté are offering you the chance to discover their know-how through exclusive collections and original customisations.
Maison Francis Kurkdjian
At the founding of his House in 2009, Francis Kurkdjian revived the spirit of eau de Cologne and created his interpretation of "Aqua Universalis". Since that date, he has enhanced his legacy with two other olfactory silhouettes: "Aqua Vitae" and Aqua Celestia". Today, he is perpetuating this saga by offering three new variations of his "Aqua", presented together in his "Cologne forte" collection, like three windows open on landscapes that are invitations to break away and escape.
For Francis Kurkdjian, the Cologne forte collection is designed to express freshness through the sensations created by light. "Aqua Universalis Cologne forte" expresses the joy of extreme whiteness, the purity of a breath of fresh air. "Aqua Vitae Cologne forte" expresses the feeling of the sun high in the sky through a blaze of flowers carried on a hot wind. "Aqua Celestia Cologne forte" is the confluence of the blues of the sea and the sky, inviting a flight towards the horizon.
Coupole store – 1st floor
Customisation workshops with Keur
Renowned for its embroidered t-shirts, the French brand Keur Paris proposes embroidery workshops at Galeries Lafayette Paris Haussmann during the Paris Mon Amour event. Brand founder Eva Bromberg has been sewing and embroidering since she was a teenager. An art passed down by her grandmother that has become a passion for her. She considers her collections as declarations of love for customers who recognise the poetry present in her ready-to-wear creations.
Coupole store – 2nd floor
Cavale
Thanks to more than 80 years of experience at Cycles Alex Singer which builds them, the Cavale retro-design bicycles are engineering marvels and convey all the charm of a ride through the country while also meeting the requirements of today's cyclists. Their state-of-the-art electric motor and ultra-chic detailing make them assets of choice for urban dwellers who want to move around quickly, cleanly and in style.
The components of the two models (Messager and Rivage) presented during "Paris Mon Amour" are all produced in France before being assembled at the very gates of Paris. Cavale at Galeries Lafayette Paris Haussmann is a rare opportunity to discover a brand which has decided to remain voluntarily ultra-exclusive.
L'Homme store – Ground floor
Yves Saint Laurent Beauté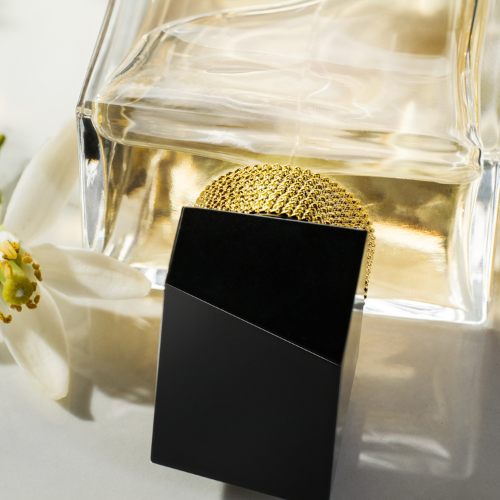 Emblem of a certain Parisian elegance, Yves Saint Laurent Beauté created the "REFILL STATION" or "Fontaine à Parfum", exclusively available at Galeries Lafayette Paris Haussmann. This new, more sustainable luxury experience allows visitors to extend the life of their "LIBRE" bottle while reducing their environmental footprint. Iconic, the designer bottle of this eau de parfum is given a quirky twist by the emblematic "Cassandre" brand logo, encrusted in the glass like a jewel. Golden chains and an asymmetrical black lacquer top give a finishing touch to this glass showpiece. By refilling their perfume bottle, customers save 20% of the retail price as compared to buying a new bottle.
Coupole store – Ground floor