Discover the Alexandrom hair salon/barbershop at Galeries Lafayette Paris Haussmann
Located on the first floor of the Men's Department in Paris, the Alexandrom hair salon and barbershop puts its know-how to work for men. Enjoy the salon team's expertise and take a moment to relax in the heart of the capital.
This is a 100% male-oriented concept where the expertise of legendary stylist Alexandre de Paris is made available to gentlemen for both haircuts and beard maintenance. Come and treat yourself in this chic yet relaxed salon that has retained the hallmarks of the Maison Alexandre as well as its high standards.
Introduction to the Alexandrom salon/barbershop 
In this 53 m2 space, designed as the mecca for men's beauty and well-being at Galeries Lafayette, the salon features 5 black leather Belmont barber chairs, 2 sinks and a discreet colouring area for extra comfort. In this exceptional salon, the black granite countertop perfectly matches the bronze-coloured 'Emperador' marble floor.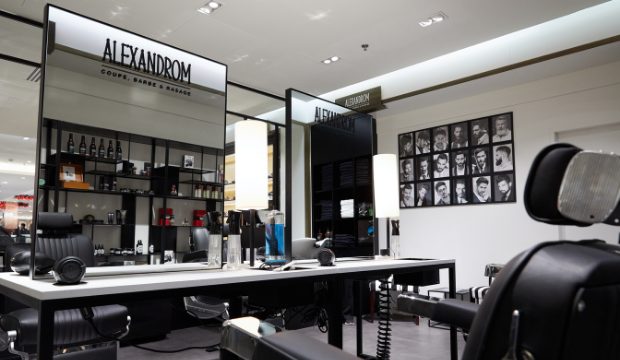 As for the furniture, the Alexandrom hair salon/barbershop goes for understated elegance with noble materials such as Madagascar ebony. In the centre, there is a vintage sofa from the 1970s, a hotel trolley used as a coat check and two Minotti coffee tables placed to welcome customers looking for a new haircut or beard trim.
The beginning of the Alexandrom hair salon/barbershop
In 1959, on rue Marbeuf in the 8th arrondissement of Paris, Alexandre de Paris created his first men's hair salon, Alexandrom, a fusion of the founder's first name and the word 'homme'. The space, which was entirely dedicated to men's hairdressing, was designed and decorated by Jean Cocteau. For 30 years, Alexandrom was the largest and most luxurious salon in the capital.
To bring the House's luxurious traditions and know-how to an increasingly demanding male clientele, Michel Deryn, heir to the historic heritage of Alexandre de Paris, developed this concept of a hair salon/barbershop in 2018. His approach focuses on impeccable expertise, where tradition and excellence are the watchwords, just like in the original Alexandrom salon and the emblematic hair salon on Avenue de Matignon.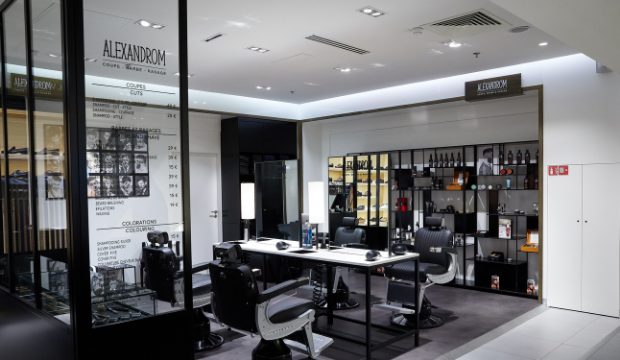 Services at the Alexandrom hair salon/barbershop
Whether you're a Parisian or just passing through, head to the Alexandrom hair salon/barbershop. The hair experts at Alexandrom will offer you various services adapted to your needs to maintain your beard and hair.
Prices:
Shampoo, cut & style: €39
Shampoo & style: €20
Hair, beard & shave: €69
Beards & shaves:
Beard trim with outline: €29
Moustache: €15 
Traditional shave: €39
Head shave and exfoliation: €39
Beard blowout: €15 
Waxing: €19
Colouring:
Silver shampoo: €10
Covering grey hair: €29
Sun Effect: €29 to €39
Colouring short beard: €29 to €39
You'll find the Alexandrom hair salon/barbershop on the 1st floor of the Men's department at Galeries Lafayette Paris Haussmann. 
Make an appointment by calling 01 40 36 07 09 or online at www.alexandrom.com