The best luxury jewellery for men and women
This elegant, intimate setting on the ground floor of the Galeries Lafayette Paris Haussmann Coupole welcomes visitors who are looking for exceptional luxury jewellery that will make all the difference. Our advisors and high jewellery experts, who are available at each corner, will help you choose the jewel of your dreams.
Our finest high jewellery brands
Diamonds may be eternal, but high jewellery also follows the trends of the haute couture collections. This is an opportunity for prestigious luxury jewellery houses for women and men such as Boucheron, Van Cleef & Arpels and Cartier to present new, glamorous creations that are sure to surprise you right alongside their iconic pieces. These exceptional pieces, whether it's a necklace, a cuff, a brooch or a ring, never fail to make us dream.
Cartier Love
Since 1847, Cartier has been making jewellery known worldwide for its quality and originality. In 1970, the high jewellery house broke new ground when it unveiled its Love line, an ode to commitment and loyalty. Love creations are pure, precise and elegant. This collection for all includes Bracelets, necklaces, rings and earrings. Passionately, madly, Cartier wraps up love with intensity in its iconic red box.
Chaumet Bee My Love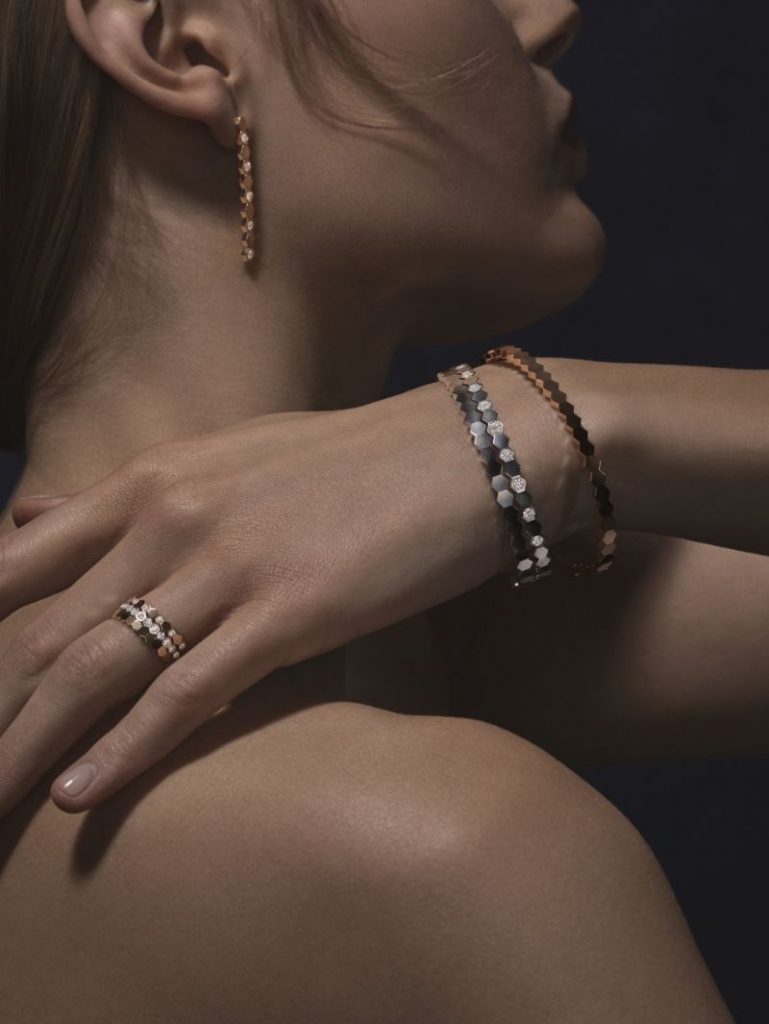 Chaumet is the epitome of French luxury jewellery. The official jeweller of Josephine and Napoleon I, located in the heart of the Place Vendôme in Paris, fascinates with its iconic line: Bee My Love, which celebrates femininity. The collection includes bracelets, rings, necklaces and earrings in pink, yellow and white gold, all featuring subtle diamonds. A symbol of divine imperial power, the house's signature honeycomb is discreetly placed on each of these exceptionnal pieces.
Chopard Happy Hearts
Chopard, the Swiss house establised in 1860, has always considered generosity and caring for others as its core values. A perfect combination of the talisman heart and the emblematic moving diamonds, the house's Happy Hearts collection united women around the world. Rose gold, white gold, diamonds, mother-of-pearl: so many noble materials and precious stones are used in creating the Happy Hearts range.
Fred Force 10
Since its creation in 1966, the Force 10 collection has become a Fred favourite. More than just luxury jewellery, this unexpected combination of a braided marine cable and a gold buckle has become the symbol of freedom and casual elegance embodied by the French house. Like an echo of sailboats in the imagination, the Force 10 collection inspires desire through the variety of its pieces. The famous bracelets are versatile, customisable and available in an incredible range of colours; they can be worn alone or in combination. The collection's necklaces and rings are also real treasures that are highly desirable and will be cherished over time.
Messkia Move
Messika combines timelessness and modernity in its daring creations. Passionate about diamonds, founder Valérie Messika has created a new style of jewellery that is both sophisticated and simple, making it a real standout. Let yourself be tempted by Move, the house's signature collection that features a series of rings, bracelets, necklaces and earrings that are set with three diamonds in motion, which releases their full brilliance at any given moment. Favourite pieces to celebrate special moments in life.
Pomellato Nudo
Nudo jewellery from the Italian house was created in 2001. A perfect combination of design and modernity, these marvels are characterised by a bare stone displaying a thousand fresh, vibrant colours. This line shatters the current jewellery conventions with its non-conformist, atypical, modern and poetic rings, long necklaces and earrings. Worn alone or in combination, you can create your own style and colour scheme.
Tiffany & Co. Tiffany T
The iconic Tiffany T collcetion embodies the ties and bind us. Created with great traditional craftmanship, these luxury jewels for men and women, with their pure and graphic lines, are instantly recognisable by their famous T motif, which can be found on rings, bracelets, pendants and earrings. Incredible creations that are available in a wide range of exceptional metals. You'll find this precious collection at Galeries Lafayette Paris Haussmann.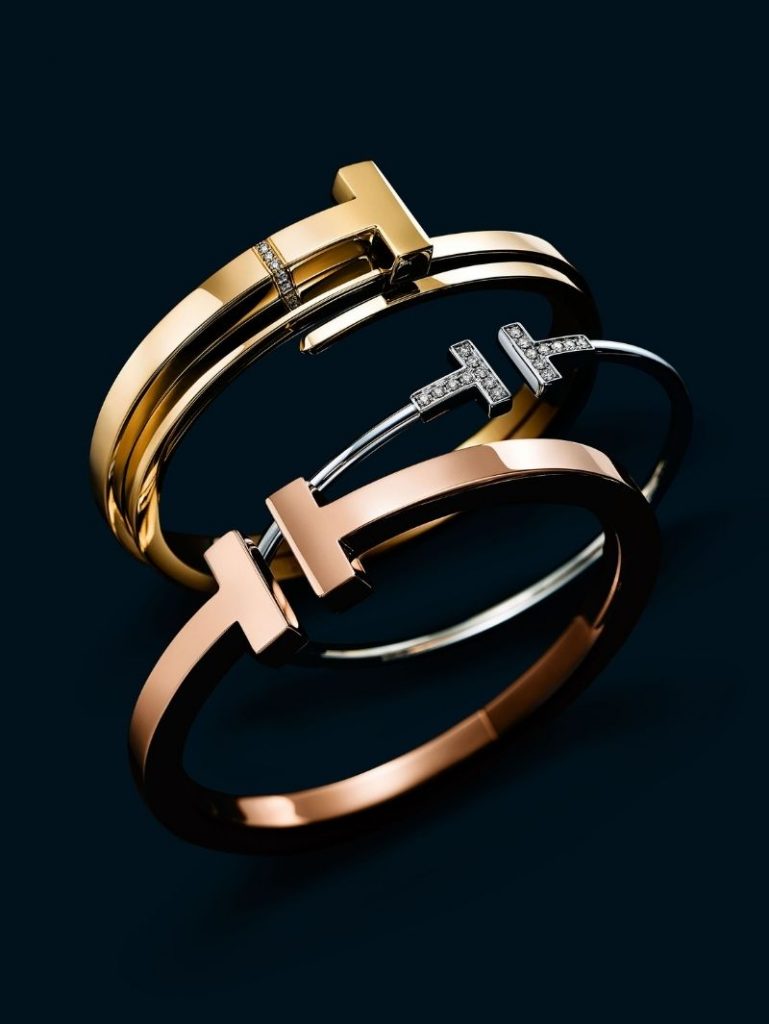 Van Cleef & Arpels Alhambra
Created by Van Cleef & Arpels in 1968, the Alhambra collection has become a symbol of luck and timeless elegance. These bright, pure jewels are inspired by the four-leaf clover, which is the Maison's emblem. The Alhambra collection continues the Van Cleef & Arpels tradition of excellence, reflecting all the expertise of the Maison. Earrings, long necklaces, watches and rings are all included in this iconic line that is sure to enhance your jewellery box.
Chanel Coco Crush
Coco Crush by Chanel is a jewellery collection that breaks free of conventions and offers daring designs. Available in yellow and beige gold and adorned with diamonds, the creations echo the shapes of the famous 2:55 quilted bag. Both simple and elegant, the Coco Crush range will win you over with its contemporary look. It includes rings, cuffs, earrings and bracelets, all hand polished to perfectly reflect the light.
Bulgari B.Zero 1
Since its launch 10 years ago, B.Zero 1 jewellery pieces have become the most sought-after creations from the Italian house. These luxury rings, with their sleek style and crafted in a variety of materials over the years, are suitable for all tastes and needs. The continued success of the B.Zero 1 is due in part to its timeless design. Inspired by the Colosseum, its clean, distinctive spiral embodies visions of the past, present and future. These incomparable pieces continue to surprise.
Boucheron Quatre
Boucheron reinterprets its legendary models through the Quatre collection, which epitomises the excellence of the luxury jewellery house. Introduced in 2004, Quatre creations stand out with their graphic, comtemporary style. To create luxury women's jewellery such as the Quatre ring, Boucheron has combined four rings in yellow, white, rose and a chocolate shade of gold. Give these wonders of high jewellery as gifts or keep them for yourself.
Buccellati Macri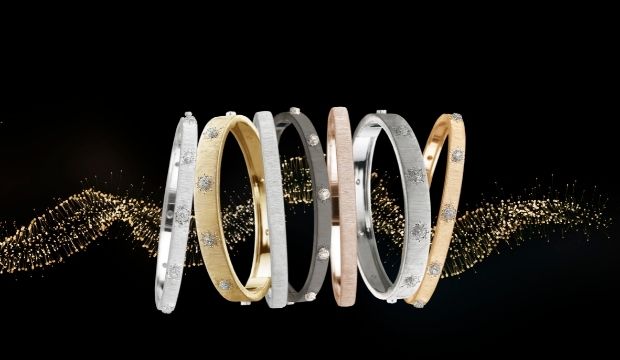 Famous for its textured gold jewellery and precious luxury items, Buccellati is one of the most renowned high jewellery houses in the world. The Italian brand has been creating unique objects of timeless beauty since 1919. Thanks to the 'rigato' technique used for the Macri collection, Buccellati has created parallel lines on the surface of the metal to achieve a striking effect. Diamonds set in small rosettes enhance the goldsmith's work. Rings, bangles and earrings make up this collection of timeless jewels with distinctive elegance.
David Yurman Buckle
David Yurman collections combine art, fashion, innovation and equestrian inspiration. The iconic Buckle collection is available in a whole range of luxury jewellery for men and women, including rings, bracelets and earrings in gold or silver, with precious stones and bright colours. David Yurman reinterprets its signature shape with 5, 7 and 9 mm twisted "Cable" bracelets in sterling silver or 18K yellow gold, featuring a buckle clasp that has been refined for even greater elegance and comfort.
Ground floor of the Lafayette Coupole