A nocturnal, enchanting and illuminating world tour to discover the flora and fauna of tropical rainforests!
For the fifth edition of its "illuminations" festival, and after having honored endangered species (2018), the oceans (2019), the evolution of life (2021) and tiny fauna (2022), the French national Museum of natural history is offering a new trip around the globe to discover the extraordinary biodiversity of tropical rainforests, combining enchantment, natural history and raising awareness of the need to protect this unique heritage.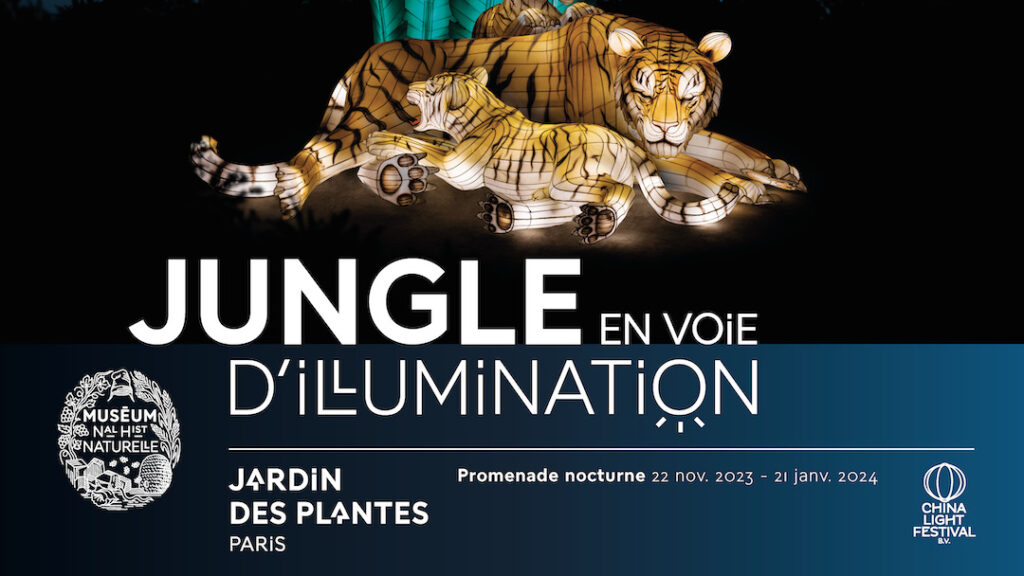 Spread over four continents – Asia, Oceania, South America and Africa – tropical rainforests are home to more than half of the world's known plant and animal species. "Jungle en voie d'illumination" or "Illuminating the jungle", offers a glimpse of this wealth through an abundant journey, featuring characteristic, spectacular or unusual species: fearsome felines, astonishing frogs, giant flowers and other marvels.
An immersive and fascinating exhibition featuring hundreds of luminous structures – including several dozen animated ones – to be discovered at the Jardin des Plantes in Paris from November 22, 2023 to January 21, 2024.
THE JOURNEY
The adventure begins in India, whose jungle was made famous by Rudyard Kipling in 1894. Greeted by Asian elephants, langur monkeys and dholes – those fearsome hunters also known as "Asian wild dogs" – visitors wander through the vegetation before encountering Bengal tigers, peacocks, giant squirrels, blue tarantulas, Atlas butterflies and a reticulated python (the world's largest snake!).
The tour continues in South-East Asia, where certain areas, preserved from the ice ages, have given rise to extremely dense vegetation, now threatened by deforestation linked to the use of palm oil. Between giant bamboos, orchids, titan arums and rafflesia – a giant flower with a stench well known to Pokemon fans! – visitors will be able to get up close and personal with a Nebula panther, an extremely agile feline with XXL canines. The Garden's pathways will take visitors right to the heart of the Borneo forest and its characteristic species, such as the amusing nasique, a long-nosed tree monkey, and the mangrove trees, which are essential to the biodiversity of the mangrove and have "intelligent" roots.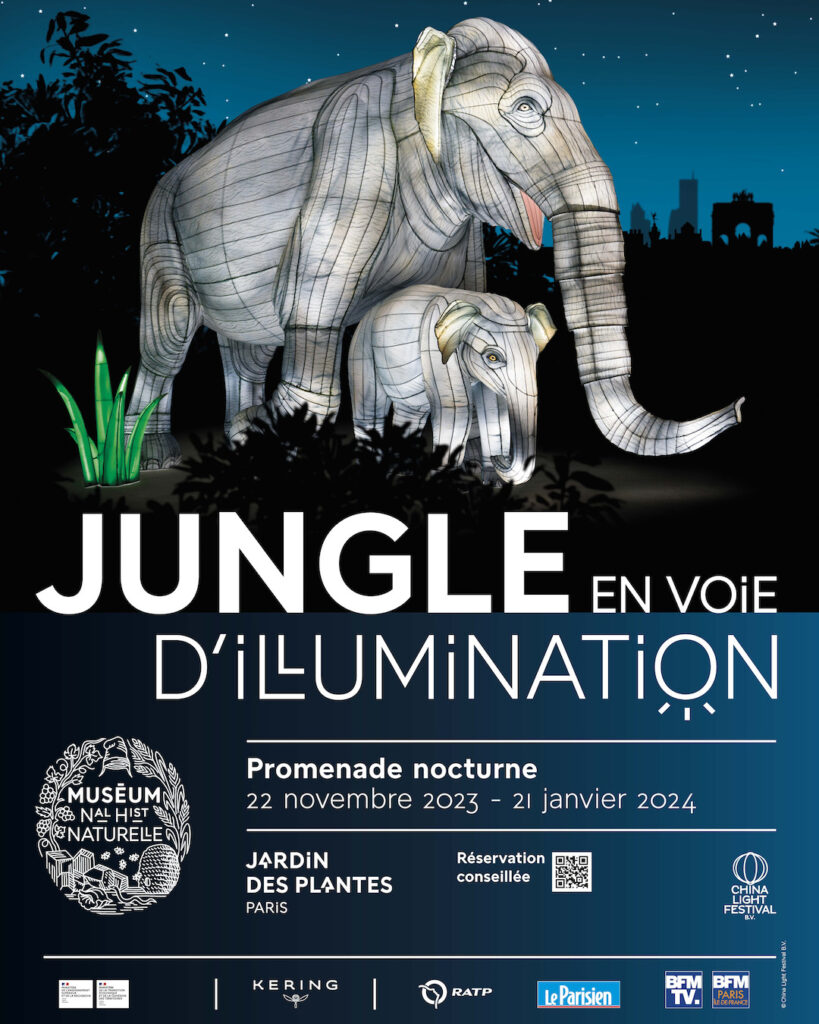 For the third part of our journey, we head for New Guinea, the gigantic island north of Australia that is home to one of the world's most abundant biodiversities. An area equivalent to around 1% of the Earth's surface is home to 5% of the planet's species, two- thirds of which are endemic – and therefore found exclusively in this region. They thrive in a wide range of ecosystems, from coastal mangroves and arid savannahs to tropical rainforests and high mountains. A monumental structure (a tree more than 10 metres high) offers a glimpse of the island's flora and fauna, with a scene combining birds of paradise, a
family of helmeted cassowaries and carnivorous plants.

The journey continues in Amazonia, the world's largest rainforest, which still conceals a thousand and one mysteries. Threatened by human activity and climate change, the planet's "green lung" is home to 10% of the world's biodiversity, as well as thousands of species still unknown to scientists. On a journey of discovery through the Amazon rainforest, visitors will witness a jaguar attacking a spectacled caiman. A rare opportunity, since these big cats are usually discreet and very difficult to spot… After crossing paths with a giant armadillo, a tamandua – that strange tree-climbing anteater – and three-toed sloths, visitors enter the rest of the tour through a "ssssspectacular" tunnel!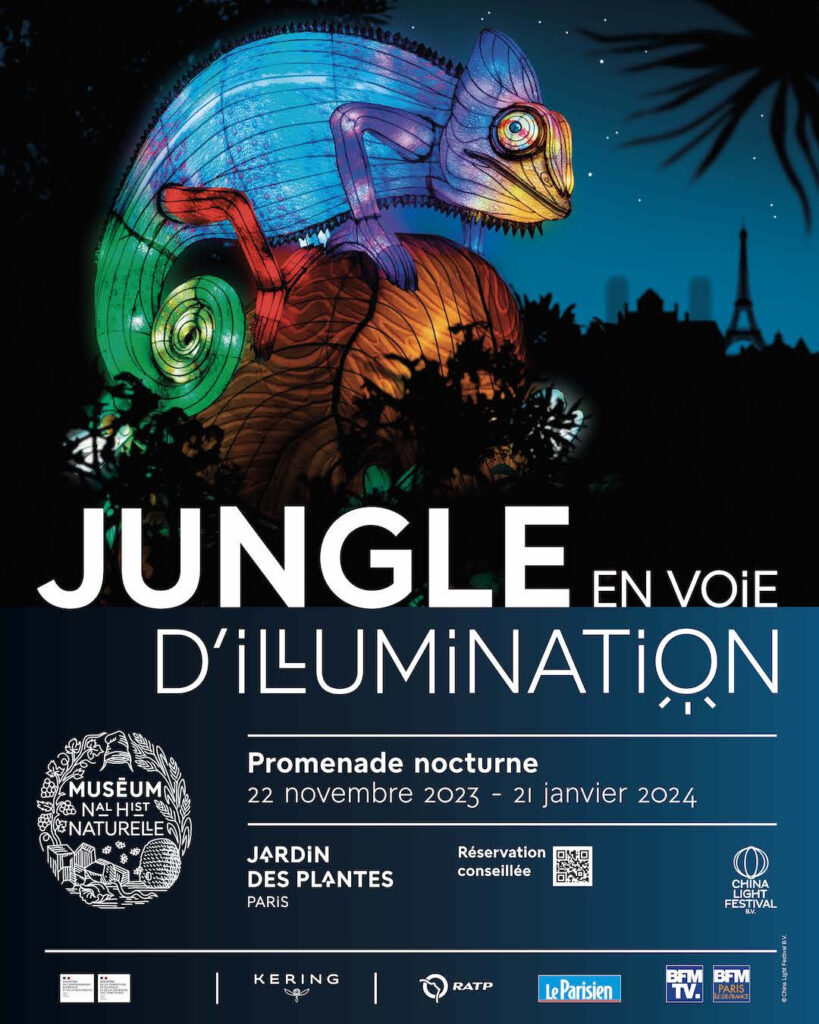 25 meters further on, we land in Madagascar, a veritable animal and plant eden where the vast majority of biodiversity is endemic. After crossing paths with numerous species of lemur, visitors will try to detect the presence of chameleons in the foliage, those kings of mimicry capable of camouflaging themselves and going totally unnoticed by predators.

Finally, visit the heart of equatorial Africa, an area of over 200 million hectares that stretches across 7 Central African countries. At the end of a fairy-tale alley of giant begonias populated by insects, apprentice explorers will follow the trail of strange dwarf crocodiles into caves in Gabon. Will they be able to unravel the mystery of their astonishing orange color? The adventure ends in the company of western lowland gorillas: visitors can admire a majestic "silverback" male surrounded by his clan.
THE DESIGN
Designed in collaboration with the Museum's scientists, the sculptures are original creations lit with low-energy LED bulbs. They are produced by China Light Festival, a Chinese company based in Sichuan that uses traditional lantern know-how to design light trails and immersive experiences.
PRACTICAL INFO

ACCESS: : Place Valhubert, 75005 Paris
Full price: €18 / Reduced price: 15€
Tribe package 2 adults & 2 children under 13: 60€
Free for children under 3
Find more information on jardindesplantesdeparis.fr
#JungleIlluminée