La Cave at Lafayette Gourmet is the destination of choice for Parisian and international wine connoisseurs alike. With 2500 labels, it houses an exceptional range of grands vins from Bordeaux, Champagne and other French regions, world wines and spirits, all the while fostering the spirit of a local wine merchant.
Located on the 1st floor of Lafayette Gourmet, La Cave spans some 450 m2, in addition to part of its selection also available within the Butchers, Seafood and Dairy sections of Gourmet.
An exceptional selection
La Cave at Lafayette Gourmet offers rare and prestigious labels, but also the opportunity to discover smaller producers, from just €4.90. All of La Cave's wines are purchased directly from the estates.
1200 labels from Bordeaux are brought together in a dedicated space – the BORDEAUXTHÈQUE – the most beautiful selection of Bordeaux wines in the world. An exceptional backdrop for the nine greatest grands crus. The richness of the collection is even shown in the vintages and bottles, available up to the Nebuchadnezzar (15 litres).
A spectacularly designed Champagne cellar presents the biggest names and most talented wine-growing artisans. The best wines of Burgundy, Rhône, Loire, Alsace… world wines and spirits are also at your fingertips.
Bespoke services
Seven experienced vendor-sommeliers are available to help clients in five languages (French, English, Chinese, Spanish and Portuguese). If you need help setting up a wine cellar, finding something for personal consumption or even advice on choosing the right bottle for a gift, everyone can benefit from personalised advice, whether connoisseur or novice.
Clients can also choose home delivery, in France (offered from Paris when spending €50 or more) and in Europe. La Cave provides reinforced packaging for wines being sent by air.
Duty-free possible and VIP welcome in a private salon.
Duclot expertise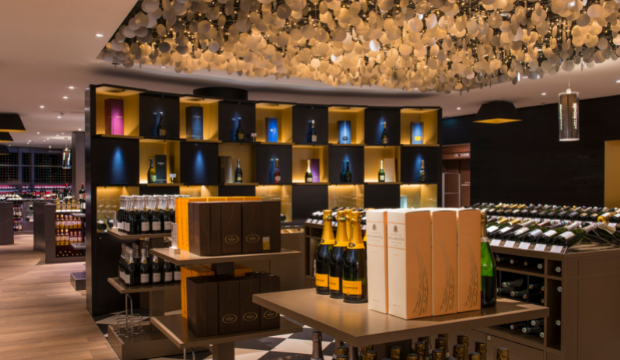 La Cave at Lafayette Gourmet was developed by Duclot, who take care of both the management and running of the shop. Trading with the grands vins of Bordeaux, Duclot has a stock of several million bottles.
It was first and foremost this expertise on Bordeaux wines that Galeries Lafayette found in Duclot, since 2010, that has led to the creation of the BORDEAUXTHÈQUE, their first project together. But with the trading know-how broadened to grands vins from other vineyards, the partnership continues today with La Cave at Lafayette Gourmet and its exceptionally rich range.
*Alcohol abuse is harmful to your health. Drink in moderation.