The most beautiful wedding rings for women and men
Engagement rings and wedding rings symbolise love that lasts forever. Whether it's a simple band, a diamond-studded ring or a custom-made creation, each piece is a unique product of a jeweller's expertise. For couples looking for the perfect style to symbolise this special occasion, come discover the most beautiful wedding rings and wedding bands at Galeries Lafayette.
Our wedding jewellery brands
In this space dedicated to luxury jewellery and love, you will find the finest high-end jewellery houses with complete confidentiality. Discover the most beautiful rings that will seal your love forever with precious stones, impressive diamonds and bold designs. From Cartier to De Beers to Mauboussin, here is a glimpse of the most prestigious houses that create the jewellery of your dreams, all available at Galeries Lafayette Paris Haussmann.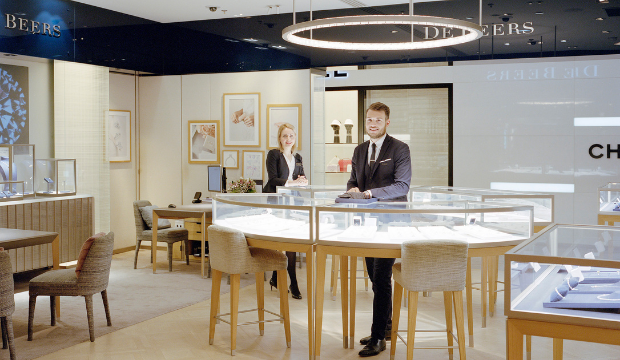 Tiffany & Co
For over 130 years, Tiffany & Co. has been making engagement and wedding rings that celebrate the beauty of diamonds. Each diamond is carefully cut and polished in the American jewellery house's workshops. Tiffany & Co. relies on unparalleled craftsmanship and strict standards to create beautiful, timeless wedding jewellery with clean lines, bold designs and vibrant colours. Couples looking for unique wedding rings can have the message of their choice engraved inside the matching rings and wedding bands. From the gold and silver T for Two ring to 18-carat rose gold wedding rings, Tiffany & Co. has more than enough to make hearts beat faster.
Lafayette Coupole, ground floor
Chaumet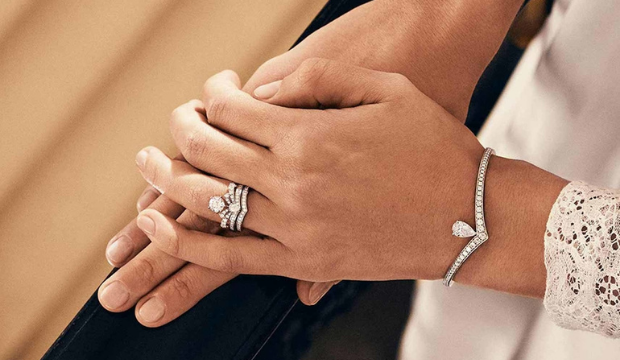 Chaumet has been one of the most prestigious jewellery houses in the world since it was founded in Paris in 1780. The official jeweller of Empress Josephine, Chaumet is located in the heart of the Place Vendôme in Paris and has been designing luxury jewellery and wedding rings for generations. The company has always worked with couples in search of precious jewellery: engagement rings, proposal rings, wedding rings, all eternal symbols of love. All the collections are characterised by delicate settings that enhance the beauty of the gemstones. The Josephine and Frissons engagement rings in diamonds and coloured stones and the Torsade and Plume wedding rings for men reflect the understated refinement of the house that declares its love for Love.
Lafayette Coupole, ground floor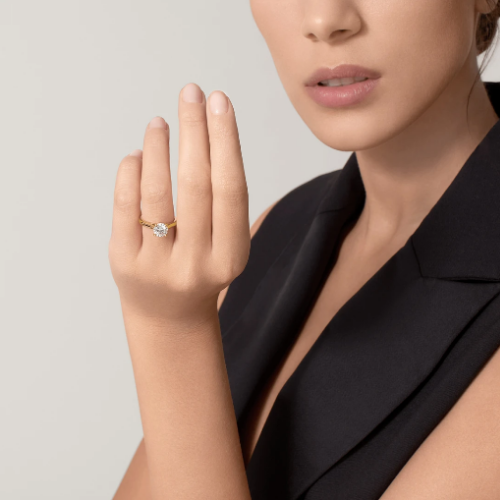 Cartier
Cartier, a luxury jewellery house since 1847, creates jewellery with world-renowned expertise. In the 1930s, the historic house, under the leadership of its incredible artistic director Jeanne Toussaint, made a splash with its revolutionary rings and jewellery, including the iconic Panthère de Cartier, which still fascinates today. Season after season, Cartier creates a whole series of iconic celebration pieces, engagement rings and wedding rings enclosed in the famous, deep red box that is the stuff of dreams. Because every love story is different, the famous jeweller creates classic jewellery for couples that will set them apart, a guarantee of elegance for a unique emotional moment.
Lafayette Coupole, ground floor
De Beers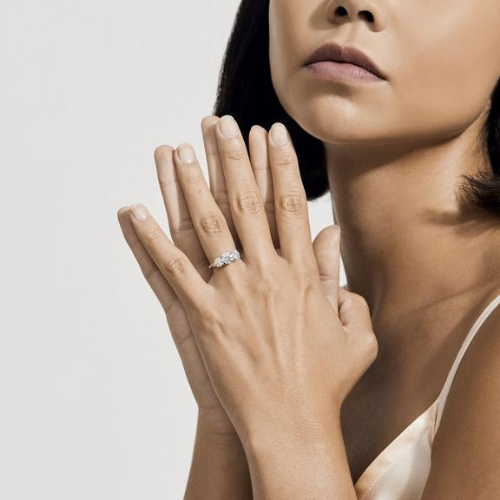 For De Beers, which was established in 1888, diamonds are forever. Famous for its textured gold jewellery and high silver jewellery, the house pays tribute to nature's most beautiful works of art. De Beers hand selects the rarest natural diamonds to adorn its most beautiful creations. Immortalise this memorable moment with these timelessly beautiful pieces. Modern and refined, diamond pavé solitaires and silver wedding rings are the ideal creations to mark the big day, a celebration between two people.
Lafayette Coupole, 1st floor
Buccellati
Founded in 1919, the Italian jewellery house Buccellati designs mysterious, enchanting, desirable pieces that are truly collectible works of art. The house brings together traditional craftsmanship, excellence and precision to create original jewellery that stands out from the crowd. Buccellati proposal rings, wedding rings and engagement rings respect traditional goldsmiths' work. Jewellery with chicly elegant pavé details to give as a token of love.
Lafayette Coupole, 1st floor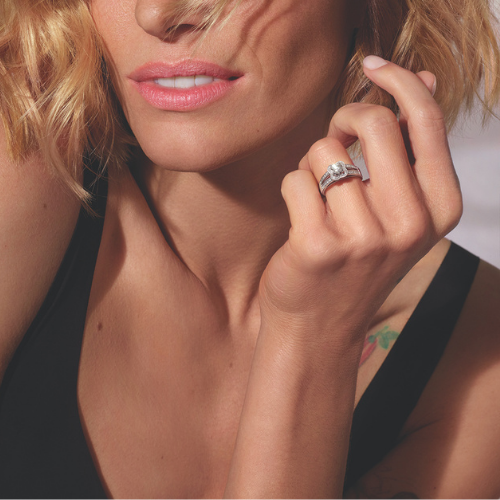 Mauboussin
Since 1827, Mauboussin has created unique pieces dedicated to couples who love contemporary jewellery with an original, refined design. The house, which challenges the conventions of traditional French jewellery, offers delicate and affordable creations that are continually reinvented to suit the seasons. Today, most Mauboussin creations are designed, cut and crafted in the French workshops. For those in love, the Chance of Love collection, one of the house's best sellers, is the affordable range for couples looking for engagement rings and wedding rings with a special touch. These gold jewels celebrate eternal love with their universal design embellished with a refined clover.
Lafayette Coupole, ground floor