Inspired by the history and architecture of the building, Studio GGSV is taking over 3 of Galeries Lafayette Paris Haussmann's iconic spaces, initiating a unique conversation between its own aesthetics and those of the department store.
In the window displays on Boulevard Haussmann, the duo unveils original scenes that showcase the iconic Dome and its rich and formal world, reproduced and augmented digitally. Reined over by the department store's proud icon once more, the windows become showcases, displaying the iconic brands and personalities of the French Touch event, celebrating both French lifestyle and the bold creativity of Galeries Lafayette.
Moving on to the Dome itself, Studio GGSV creates an enormous, ephemeral installation, transforming the very heart of the department store into a fantastical, moving landscape, animated by a poetic energy "like a spirit, conjuring up a horizon of possible transformations."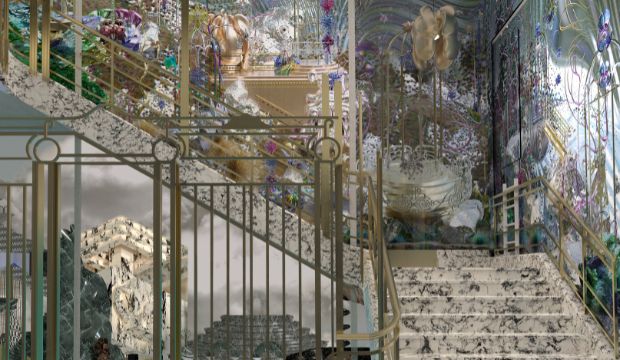 Also as part of the duo's carte blanche, the designers are inaugurating STAIRWAY TO HEAVEN, a permanent artistic commission in one of the department store's historic staircases: an unusual panorama that unfolds as you travel up the floors, in the form of a trompe-l'oeil fresco depicting worlds of changing materials, inspired by the unique architectural and decorative heritage of Galeries Lafayette.