This Christmas, Galeries Lafayette invites young and old alike to escape to distant lands by taking a fantastic voyage around the world. Climb aboard alongside Céleste, a young intrepid explorer, who discovers a hybrid aeroplane from another age on the roof of a Parisian department store. It belongs to Jules Védrines, the daring pilot who successfully landed on the rooftop of Galeries Lafayette Paris Haussmann one hundred years ago. Guided by chance and the stars, she travels the globe meeting some fantastical characters along the way. From snow-covered jungle to wonderful polar bear village and via the desert too, she brings back thousands of gifts in her magic trunk, souvenirs of faraway lands. Her extraordinary odyssey ends in Paris, under the lights of Galeries Lafayette's Giant Christmas Tree.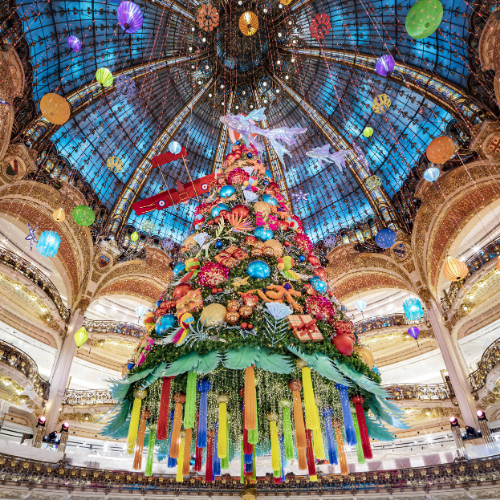 Christmas traditions
This is an essential tradition at Galeries Lafayette. Every year, as Christmas approaches, our stunning Giant Christmas Tree takes over the Coupole store at Galeries Lafayette Paris Haussmann. This year, as part of The Christmas Voyage theme, it is adorned with influences from around the world and tells the tale of the final stages of Céleste's odyssey.
Leave with your arms full of presents, 50% off* your first 2 taxi fares with FREE NOW when you enter the code GALERIESLAFAYETTE.
*Offer cannot be combined with any other and valid in Paris only, for new users who have not migrated from the Kapten app. Valid on the first 2 personal fares, up to €10 per fare. Code must be entered on the app before 04.02.2020 at 23.59 hrs.