Located in the centre of Paris, Galeries Lafayette Paris Haussmann has made an impact since its foundation, primarily due to its dome which has become one of the most iconic architectural monuments in Paris. Join us in discovering its history starting with its construction in 1912 by business men Alphonse KAHN and Théophile BADER.
The origin and construction of the Dome
Created by master glassworker Jacques GRUBER in the "Art nouveau" or "Art déco" style, the Dome is a real architectural feat that attracts crowds from the world over.
The purpose was to give light and a certain style to the main Galeries Lafayette store, and more particularly to the fabulous gilded ironwork on the balconies fashioned by Louis Majorelle, who also designed the monumental banister on a magnificent staircase which unfortunately,was removed from the store in 1974.
The stained glass currently in place forms an immense flower comprised of 10 luminous sections stretching over a total of 1000m². The Dome is one thing you shouldn't miss when entering the Galeries Lafayette Paris Haussmann main building.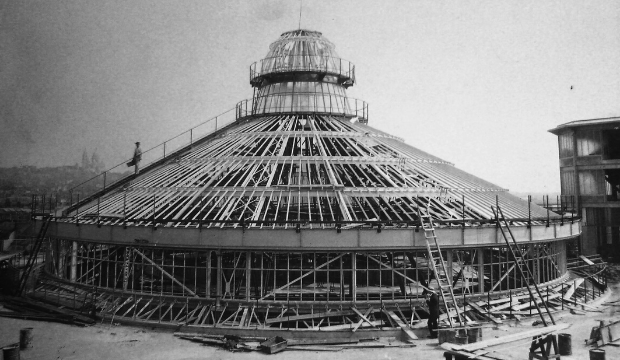 The Dome during the Second World War
The Dome has withstood the test of time and only experienced one distinctive event, which was its removal during the Second World War when it was taken apart to prevent it from breaking and showering passers-by with shards of glass during the bombing.
Some of the stained glass panels were never found despite having been carefully numbered. As the missing pieces were replaced by new, entirely white glass, the Dome is therefore not exactly the same as at its origin.
Over time it has become a seminal feature of Paris, in line with other historic monuments such as the Eiffel Tower, the Sacré Cœur or the Arc de Triomphe. It will captivate lovers of great architecture as well as those who want to have impressive photo souvenirs of their time in Paris.
Restoration of the Dome
The Maison du Vitrail was in charge of renovating and consolidating the Dome to offer it a second lease on life and to revive all its original splendour. Our glass dome should thus have a bright future and be available for admiring for many years ahead. It remains one of the most visited monuments in Paris.
The vast worksite requires replacing 1000m² of the stained glass designed by Jacques Grüber, one of the founding members of the École de Nancy in 1901, and lets the store enjoy the natural light so characteristic of Galeries Lafayette Paris Haussmann.
So as not to disturb its clientele, the store has arranged to have renovations take place at night in total privacy. The glass panels that have been removed are replaced with temporary ones.
The panels still in good condition are simply removed and transported to the Paris workshop for cleaning. The lead mountings are totally refurbished to guarantee the stability of the various pieces.