The designers who make today's fashion
Always on the lookout for new fashion trends, Galeries Lafayette invites you to discover the Designer Fashion space in the Men's Department. A place dedicated to the creative wave that shakes up conventions in men's fashion.
In this exclusive setting, all fashion trends are represented through a range of designer brands. The modern man, who is already aware of the latest trends seen on the catwalks, is sure to find the ideal piece to complete his fashionable wardrobe, whether his style is bolder or more casual.
Our finest men's designer fashion brands
Fans of rare labels can come and discover designs by Junya Watanabe, Ader Error and Heron Preston. Those who prefer a look that is more casual, but just as well thought out, will turn to French ready-to-wear houses like APC and Kitsuné. From an overstitched logo to perfectly tailored trousers or colourful details, discover this fashionable selection of men's wardrobe essentials.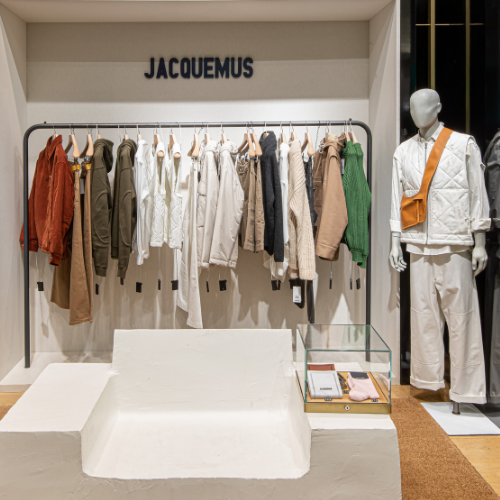 JACQUEMUS
Simon Porte Jacquemus continues his rise in fashion, unveiling a fresh, colourful wardrobe inspired by his native South of France. Here, silhouettes are relaxed and colours are warm; it's a real invitation to travel. Season after season, the designer makes a splash with his already iconic clothes like the Simon shirt and the famous Tambour bag.
Men's Department, 3rd floor
OFF-WHITE
Virgil Abloh fascinates with his Off-White label, which focuses on contemporary fashion inspired by art and architecture. The fashion designer sets himself apart with his chic streetwear collections and boldly designed high-top trainers. The pieces are colourful, contrasting with the famous arrow logo stamped on each design.
Men's Department, 3rd floor
ETUDES
ETUDES creates casual collections inspired by streetwear style. The Parisian brand offers bold yet comfortable pieces available in an elegant colour palette. The relaxed-fit shorts are monogrammed and the sweatshirts sport the contrasting logos that have made the brand so successful.
Men's Department, 1st floor
STONE ISLAND
Stone Island is one of the labels to keep an eye on. Known for its creations inspired by the outdoor wardrobe, the Italian brand captivates with its functional coats designed in flashy colours. Stone Island is made for urban adventurers in search of inimitable style.
Men's Department, 3rd floor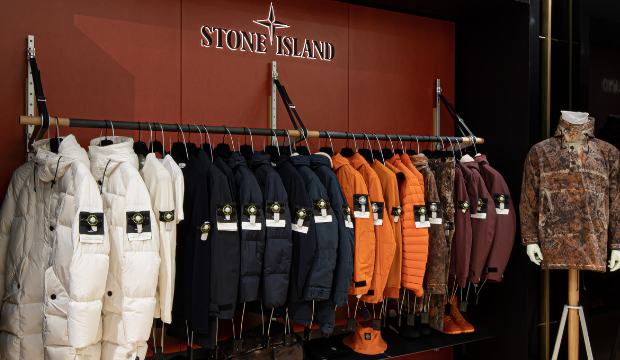 AMIRI
Inspired by the underground rock movement, Amiri takes men's streetwear into a whole other dimension. Metallic pieces with sterling silver plating, unique details and quality fabrics are all part of the collections of this label that promotes effortless luxury.
Men's Department, 3rd floor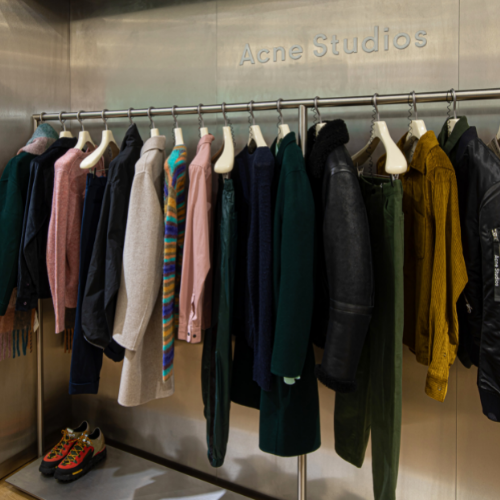 ACNE STUDIOS
Founded in 2016, Swedish label Acne Studios has quickly made a name for itself in men's ready-to-wear. Acne's innovative, contemporary style is reflected in colourful, unique pieces that are always well-cut and produced from high-quality materials. The clothing and accessories from the Face collection, stamped with the brand's famous smiley, are now among the hottest pieces in men's fashion.
Men's Department, 3rd floor
Galeries Lafayette is always there to assist you in your shopping experience. Try our Hands Free Shopping service, which allows you to collect your purchases all at once.