Workshop French Cuisine Ferrandi
Step into the kitchen with a renowned chef graduated from the prestigious professional cooking school FERRANDI Paris and discover the secrets behind an iconic French meal. The chef will share its experience, know-how and culinary techniques with you during an unforgettable cooking group. And if you are curious about the dish originate, the chef will tell you all about it.
French meals cooked and classes taught vary according to the seasons and the chef's inspiration but one thing is certain: gastronomie and traditional french dishes won't hold any secrets for you!
Recipes will change from 2 October 2023
Come and cook a duck, pumpkin and chestnut parmentier (Wednesday and Saturday) or a butternut risotto (Friday).
The complete course is suitable for all skill levels, followed by tasting on the spot in classic French style. Looking for the best of the bests cooking classes in Paris for English speakers? Seat comfortably, you are at the right table.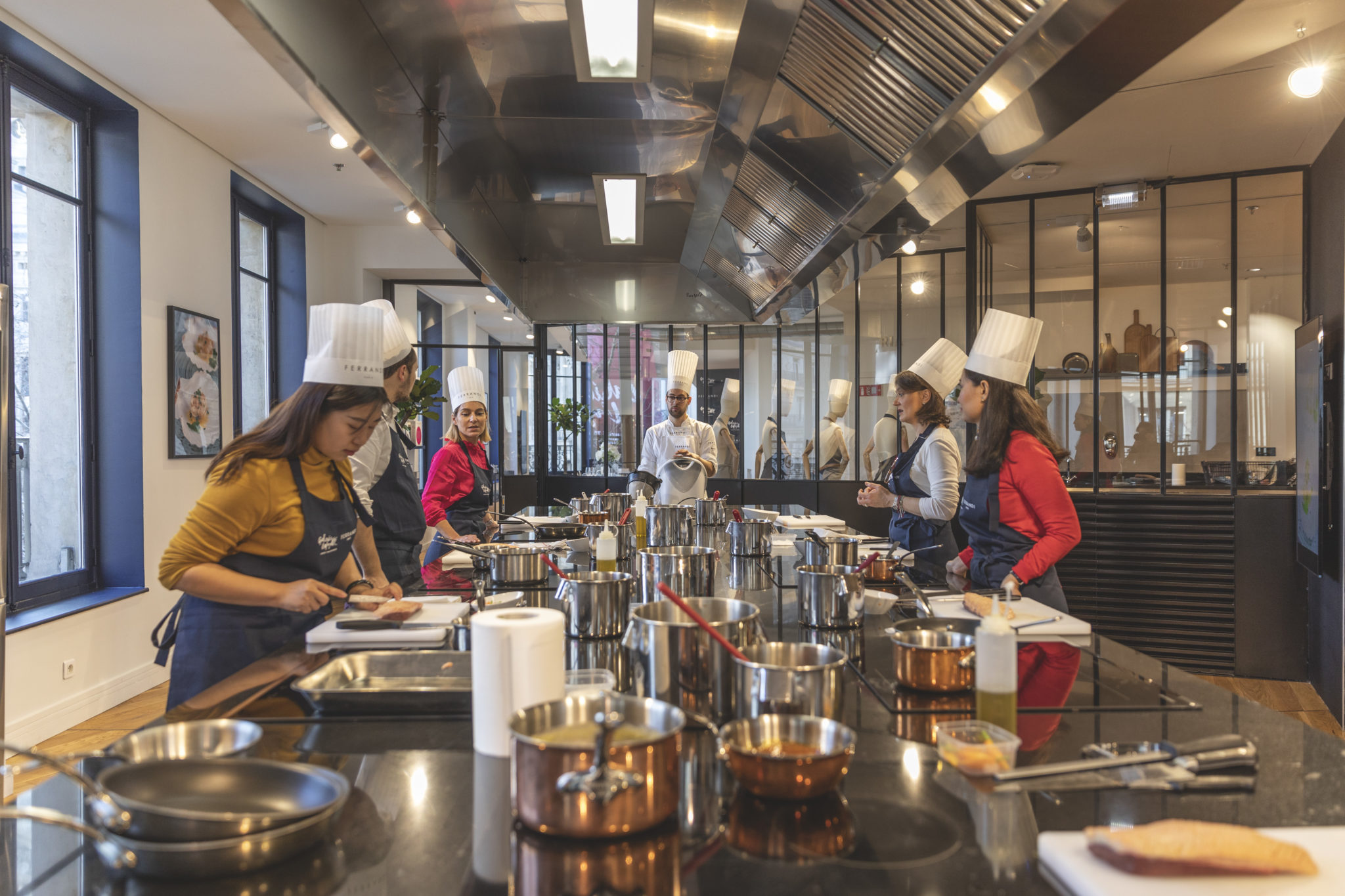 Treat yourself or treat your loved ones to a cooking class.
👨‍🍳
130€ /

Duration : between 2h and 2h30
Who hasn't dreamed of learning to master the art of cooking like a real chef? If you have a cordon-bleu at home, now is the time to offer him or her a Ferrandi cooking course. 🥄
Rendez-vous at Ferrandi's kitchen on the 3rd floor of the Lafayette Maison & Gourmet Store,
35 Boulevard Haussmann, Paris.
Important Informations
All Verification of your ID and booking confirmation may be requested at the entrance.
Participants : 6.
All children under the age of 12 cannot participate in your french cooking class. Teenagers under the age of 18 must be accompanied by an adult.
Accompanying persons must also have an admission ticket.
Please arrive 5 to 10 minutes before the activity. If you are more than 15 minutes late, unfortunately you will be refused access to the activity.
For all your group booking or privatization requests, we invite you to send an email to:

[email protected]

.
Highlights
Master the basics of French Gastronomy
Discover Chef's techniques & secrets
Share a tasting moment with the chef
Gourmet store