The greatest chefs and chocolatiers have decided to put the spotlight back on the star of the French childhood snack: the chocolate bar. This inter-generational treat was savoured slowly during our afternoon snack, often accompanied by a piece of bread. Wrapped in beautiful patterned packaging, we now find these sweets enhanced with haute couture praline and vintage chocolate. These designer creations can be found in the Gourmet department of Galeries Lafayette Paris Haussmann.
Le Chocolat Alain Ducasse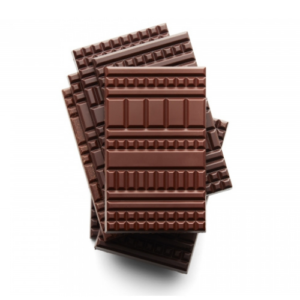 Located on the ground floor of the Gourmet department, Le Chocolat Alain Ducasse offers no fewer than 46 different chocolate bars. This broad selection reveals the diversity of the beans' origins from all over the world (Brazil, Cuba, Ecuador, Peru, Venezuela and more) as well as the recipes created by their cocoa-roasting chocolatier. From the exceptional grand cru to the original bar, not to mention the Mendiant bar and the essential tradition bar, the cocoa creations of the maestro of French gastronomy are a clear call for indulgence.
Pierre Marcolini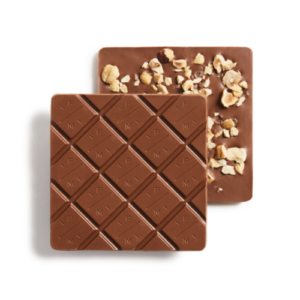 Renowned master chocolatier Pierre Marcolini offers more than 150 chocolate delights, including his famous square-shaped bars.
Each year, the iconoclastic chef travels to every corner of the world to find the rarest cocoa beans—sourced from local and independent producers—and the best ingredients to create the finest grand cru chocolates.
His goal is to offer rare and unexpected emotions through his gourmet creations.
L'Éclair de Génie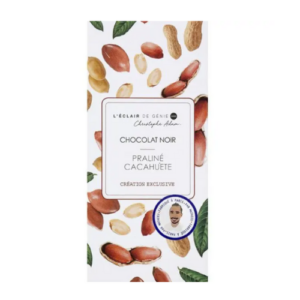 Although Christophe Adam launched his brand around the éclair and its various interpretations, the pastry chef also promotes a wide range of chocolate bars with original flavours: crunchy almond-hazelnut praline, cashew raisin, buckwheat caramel fleur de sel, peanut praline, caramel nougatine, soft coconut, etc.
These sweet treats are wrapped in very girly boxes, stamped with hearts, flowers and animal motifs.
La Manufacture Cluizel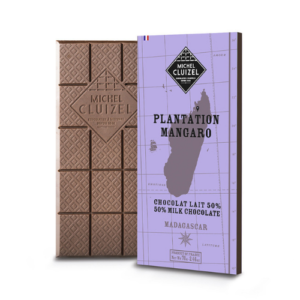 With 70 years of expertise, La Manufacture CLUIZEL offers its best chocolates in bars, for a unique tasting experience.
They are divided into four distinct categories: Plantation Chocolates, Grandes Teneurs (High Content), Gourmandes and Craquantes (Crunchy), with dried fruit or nuts.
The house offers a wide range of high cocoa bars with a smooth, melt-in-the-mouth texture. Chocolate connoisseurs will be delighted!
Chocolat Bonnat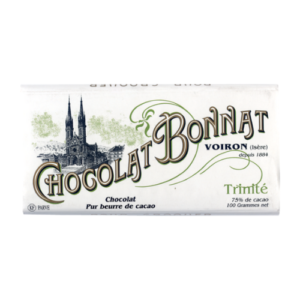 Founded in 1884, Bonnat has passed down the recipes that have made it successful from father to son, without ever losing its way. While the family-run chocolate company is renowned worldwide for the authenticity of its Grands Crus Historiques bars, the offerings have expanded over time, and there are now several ranges to choose from: Les Grands Crus d'Exception (dark), Les Grands Crus Lait (milk), traditional dark, praline, 'FraiZe' (with small pieces of strawberry) and Christmas bars, perfect for end-of-year festivities. We particularly appreciate the retro packaging of these delicacies.
Chocolat Chapon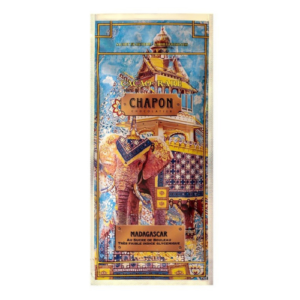 At Chapon, they talk about cocoa before they talk about chocolate. Since the beginning, the master chocolatier has travelled the world in search of the best beans: Madagascar, South America, São Tomé, and even the Fiji Islands. Because from sorting to roasting, Patrice Chapon does everything himself.
Like ten or so other chocolatiers in France, he belongs to the very closed circle of chocolate makers! In addition to their exquisite taste, his chocolate bars are wrapped in beautifully illustrated packets, making them a stylish gift to give.
Le Chocolat des Français
Le Chocolat des Français is reinventing the world of chocolate by combining high-end delicacies with unbridled creativity. Made in France by the best chocolatiers, the brand's bars are produced using only organic and 100% natural ingredients. These treats in colourful, artsy packaging featuring different themes, like love, animals, France, Paris and the Eiffel Tower will take you back to your childhood.