The finest lingerie brands and swimwear brands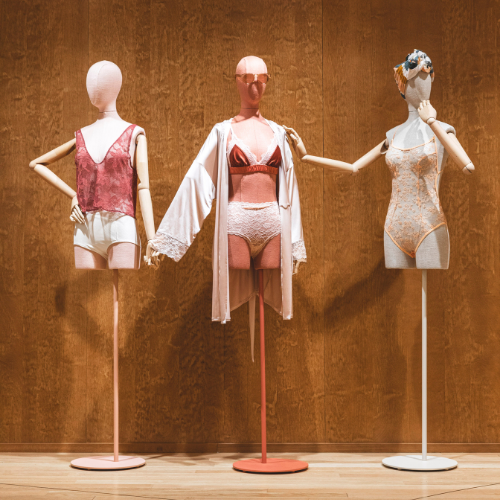 The lingerie department, located on the 2nd floor of the Lafayette Coupole at Galeries Lafayette Paris Haussmann, offers a varied selection in several spaces. Come explore our comprehensive selection of lingerie brands: from accessible to luxury, they are spread over various corners and there's a multi-brand space for underwear and bras that is dedicated to online brands. As for swimwear, the space adapts to the seasons and offers a whole selection of pieces that reflect customer needs. Tights and stockings are other essentials that you can find in this space that celebrates a new definition of femininity. In a spirit of loving oneself and others, beauty brands are set up in the very heart of the lingerie department and offer a whole range of skincare products, essential treatments and iconic products. The lingerie department is an ode to uninhibited femininity, created for all women.
Our lingerie brands
The lingerie space brings together the finest high-end lingerie brands, online labels and a whole range of affordable products. The houses and labels showcase women and all their forms of seduction. From eco-responsible lingerie by Nénés Paris to designs for all by Boy Smells, not to mention the delicate lingerie by Yasmine Eslami, all the finest lingerie brands can be found at Galeries Lafayette Paris Haussmann.
NOO
NOO was founded by two women, Elisa and Anaïs, with a common desire to create collections of underwear, bras and other lingerie, as well as homewear and activewear designed to enhance female curves. NOO is committed to more environmentally friendly production every season by opting for greener packaging. For every purchase made, NOO is committed to donating a pair of panties to a woman in need through designated organisations.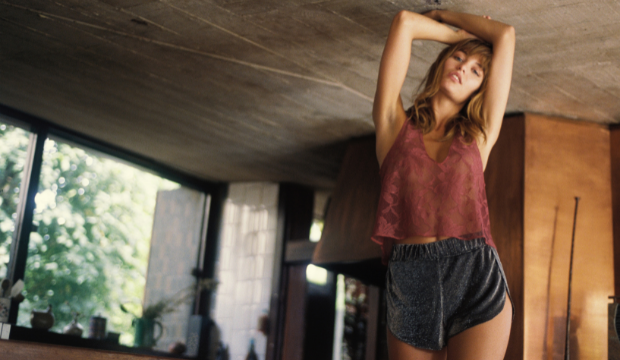 Livy
Livy is a high-end, visionary, precious lingerie brand founded by Lisa Chavy. Livy collections are a return to traditional lingerie codes. Each piece is numbered and produced in a limited edition in the company's Paris workshops. Underwear such as thongs, g-strings and bottoms of all kinds are enhanced with precious stones to rebalance the energy centres. It's lingerie which, in addition to being resolutely sexy with its plunging necklines, Calais lace and graphic details, aims to be a real source of well-being for those who wear it.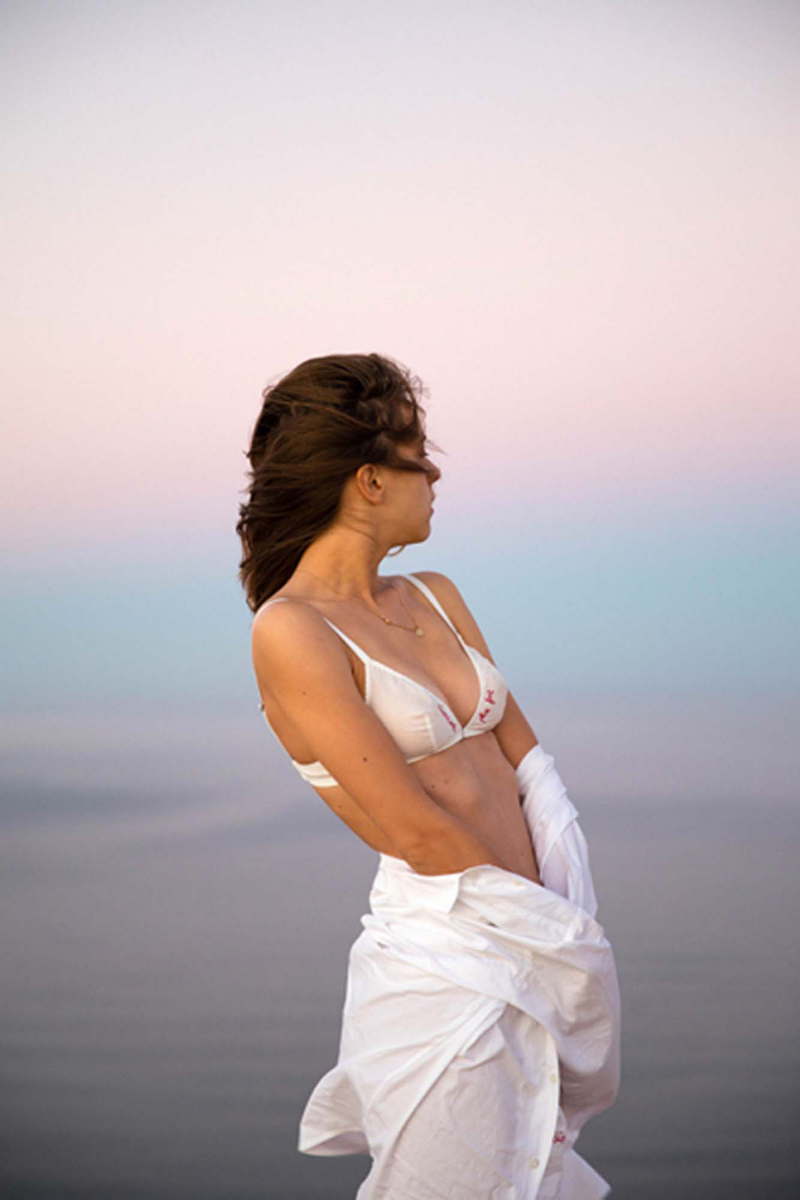 Henriette H
Founded in 2012, Henriette H was an instant hit with Parisian women thanks to its embroidered panties. Always sewn with white thread in the house's Paris workshop, Henriette H's timeless and romantic underwear enhances the bodies of the women who wear it. The brand's iconic piece is the Amoureuse panty featuring hand embroidery and made by hand.
Jolies mômes
Since 2013, Alice Pecatte, founder of the Jolies Mômes brand, has been designing and creating lingerie and homewear collections with a rock and bohemian vibe. The lingerie designer is shaking up conventions with her earth-friendly pieces. The pioneering brand of responsible lingerie makes its underwear from the unused surplus of major French brands. Made in a limited edition in Biarritz, the panties, briefs, thongs, panties, g-strings and slips combine comfort and elegance. Sets designed with love.
Mina Storm
Mina Storm offers comfortable, feminine lingerie collections designed for all women. Committed to a more inclusive femininity from the start, Mina Storm doesn't retouch any of its photos, for a natural charm. The soft, comfortable underwear is produced in very limited editions to avoid overproduction. Committed to women and the environment, Mina Storm uses certified eco-friendly materials like organic cotton for its lingerie, g-strings, thongs, panties and bras. A Go for Good brand you can find now at Galeries Lafayette Paris Haussmann.
Le Petit Trou
Founded by designer Zuzanna Kucynska in 2013, Le Petit Trou is a lingerie brand specialising in luxurious, refined lingerie. Combining glamour, sensuality and comfort, the brand's Polish-made underwear enhances the female body. Minimalist bras, glamorous bodysuits and panties and printed panties are made from sheer fabrics and quality lace. The brand's iconic pieces include the famous embroidered polka dot sets in a range of intense colours.
Icône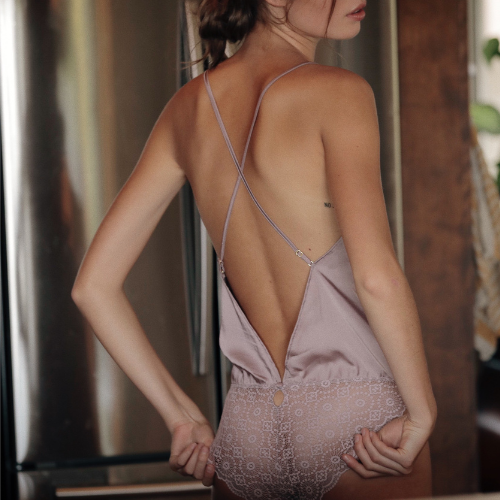 Icône is a lingerie brand with ultra-feminine modern lines that adapts to all body types and feels like a second skin. Icône lingerie has fun deconstructing the traditional lingerie conventions by creating sensual and comfortable styles that celebrate effortlessness. Playing with transparency, intense colours and reasonable prices, Icône appreciates natural femininity. With satin bodysuits, French lace bras and panties, elegant bras and shorties, you'll have a hard time choosing.
Our selection of swimwear brands
The swimsuit area is set apart from the lingerie space with its tiled walls reminiscent of vintage swimming pools and changing rooms. This intimate, elegant space can hold its own against the most beautiful spas in the capital. With its swimwear selection, which is updated every season, Galeries Lafayette Paris Haussmann offers you a selection of iconic swimwear brands and premium styles. From Lisa Marie Fernandez to Isabel Marant, Lemlem and Laura Urbinati, packing a summer suitcase will be a child's play.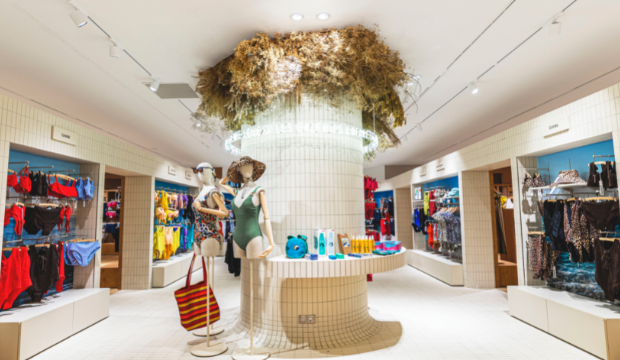 Louise Misha
Created by two childhood friends in 2012 after a trip to India, Louise Mischa is a two-piece swimwear, ready-to-wear and accessories brand with a timeless bohemian chic spirit. The women's and children's collections are soft and romantic, and made from environmentally friendly materials. Among the materials used, Louise Mischa chooses natural fibres such as organic cotton, a commitment to responsible fashion that has earned her a place in the Go For Good selection. The colourful swimming creations are adorned with ruffles, psychedelic prints and surprising details for an unforgettable summer.
Love Stories
The Dutch company Love Stories was founded in 2013 by stylist Marlos Hoedeman, who wanted to pay tribute to travel, film and art through her collections. The result is one-piece swimsuits and poetic bikinis that combine noble materials, comfort, softness and femininity. The brand, which has been labelled Go for Good, the Galeries Lafayette movement for more responsible fashion, uses recycled yarns for most of its collections. Among its emblematic pieces are bikinis available in various vibrant shades such as lilac and raspberry pink.
Anjaa
Anjaa swimwear collections bring together femininity and responsibility. Every season, the designer introduces collections that are more environmentally friendly, in particular through OEKO-TEX certified one-piece swimsuits and bikinis sewn by dedicated, expert seamstresses. Quality fabrics and noble raw materials create ultra-feminine collections of comfortable, timeless swimwear. Slip some into your suitcase for your next summer trip.
Eres
Eres pieces are sleek, simple and contemporary. Since its launch in 1968, the high-end lingerie and swimwear brand has won over customers with its second-skin designs and sophisticated aesthetic. With asymmetrical swimsuits in pop colours and bikini bottoms in incredible materials, Eres combines comfort, finesse and quality. These warm-weather essentials come in a variety of shades and prints that will be big hits this summer. Come discover or rediscover the Miami, Surligné, Playa and Siren ranges, which are still as popular as ever.
D Nu D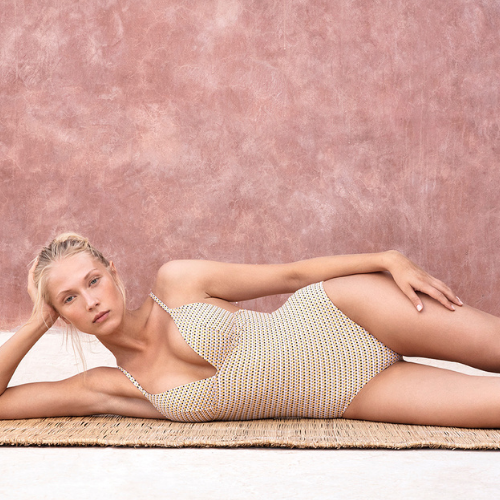 With its contemporary style, the D Nu D label sets itself apart from traditional swimwear fashion. D Nu D means flamboyantly coloured swimsuits where the emphasis is on the development of new materials. Knitted fabric inspired by basketry and decoration, woven stripes with quick-drying properties and other innovations make these swimsuits exceptional. D Nu D's swimming wardrobe features chic and elegant graphic designs with a touch of retro. We can't wait until summer!
Kure Bazaar nail bar
Located in the lingerie department, Kure Bazaar invites you to its cosy space for a fun and 100% feminine moment of relaxation. Kure Bazaar is the first eco-friendly nail bar chain in the world where you can pamper your hands and feet with products that are good for your body and good for the planet. A pioneering brand in eco-friendly nail polish, Kure Bazaar creates 100% clean formulas based on plant pigments and are never tested on animals. From treatment to applying nail polish, a manicure at Kure Bazaar is a true beauty ritual, where well-being and technique are on the menu. Between two lingerie finds, come and take care of your nails in this space that celebrates femininity.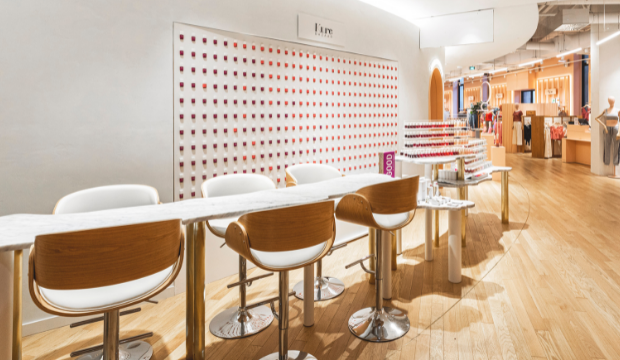 Lingerie department – Lafayette Coupole – 2nd floor
Take a break from your shopping marathon and treat yourself to a healthy snack at Joe & The Juice.