The Giant Christmas Tree
An honoured tradition at Galeries Lafayette since 1976, every Christmas a spectacular Giant Christmas Tree takes over the Dome in Galeries Lafayette Paris Haussmann, filling visitors with awe and wonder.
This year, the Giant Christmas Tree will be decorated with iconic toys from "1, 2, 3, Christmas!" and an astronaut Father Christmas who spins around under the Dome! Every half an hour, the lights go out, a sound and light show begins and the toys come to life, as if by magic!
Christmas window displays
The animated window displays on Boulevard Haussmann are curated by the expert teams at Galeries Lafayette and Atelier Bournillat. They set the scene for the story of "1, 2, 3, CHRISTMAS!" in a surreal, vintage world.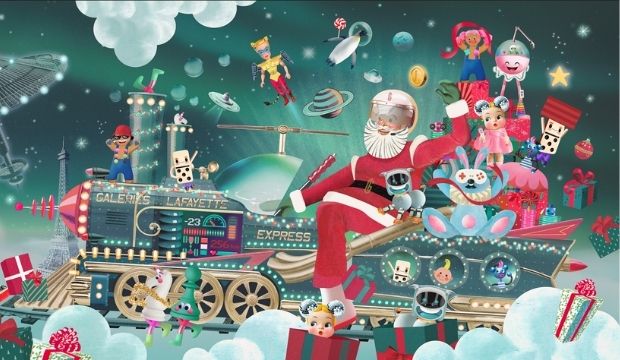 Each of the 11 scenes depicts a phase in the adventure: from the Toys' Awakening to Santa's Sleigh, via the Toys' Banquet and the Christmas Choir. Other iconic characters from Disney, Pixar, Marvel and Star Wars will also be making an appearance in the windows, coming to life alongside the toys from "1, 2, 3, CHRISTMAS!" as well as a rock star Father Christmas!