For a fourth season, chef Julien Sebbag has set up shop on the roof terrace of Galeries Lafayette Paris Haussmann to introduce Créatures, a pop-up, summer restaurant that is 100% vegetarian.
For lunch and dinner, the menu is 100% vegetarian. Discover "Summertime Sadness" foccacia with zucchini, black olives and red onions, served with straciatella and pistachios. "Golden Hour" : deliciously golden potatoes topped with a soft-boiled egg and boosted by an unforgettable homemade aioli & capers. Or, a "Strawberry Field Forever Part.2" gariguette strawberry salad like you've never seen it before.
Online reservations possible for lunch at: www.creatures-paris.com
Créatures Bakery
The most beautiful Parisian rooftop is reinventing itself this year with Créatures Bakery , a new rendezvous in the sun. From 10 a.m., when the store opens, we are intoxicated by the beautiful light over all of Paris.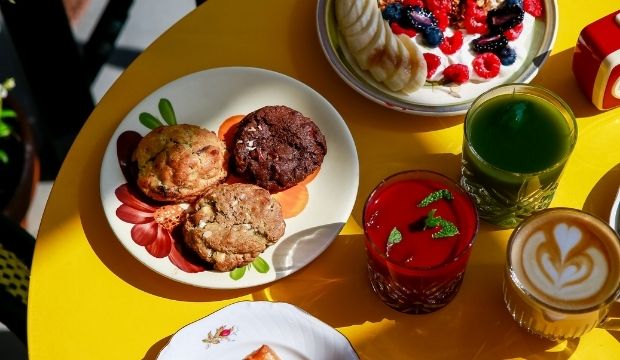 Fresh out of the oven, soft and crunchy croissants, puff pastries filled with sweet delicacies and plump and golden brioches now accompany morning meetings. A multitude of delicacies that will seduce all tastebuds. This cool and cozy atmosphere is also available in the afternoon for a well-deserved tea time, especially after hours of shopping.