The Galeries Lafayette Paris Haussmann jewellery department
Located on the ground floor of the Lafayette Coupole, the jewellery department at Galeries Lafayette Paris Haussmann is home to the finest jewellery houses. In this world where elegance and refinement are the watchwords, come explore prestigious designer jewellery brands and the best in costume jewellery. Jewellery for a special evening, for every day, for a lifetime.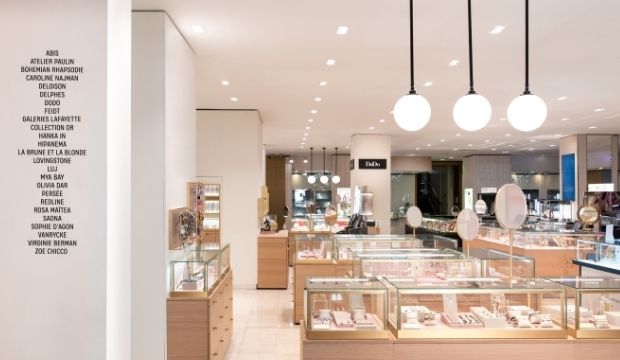 The finest jewellery brands
In this space dedicated to luxury and costume jewellery, you will find the greatest jewellery houses, niche brands and jewellery that is affordable for all. With delicate gold chains, pretty pearls, extra-long necklaces and desirable medallions from brands like Chaumet, Cartier, Aurélie Bidermann and Satellite, you'll discover the best in jewellery at Galeries Lafayette Paris Haussmann.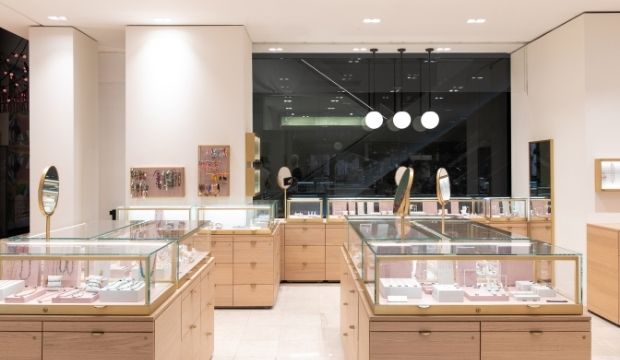 Les Georgettes
Les Georgettes offers high quality jewellery that can be personalised with interchangeable, reversible leathers. Created from a combination of jewellery and leatherwork, each piece is designed and manufactured in France. These unique and affordable designs, patented to guarantee their originality, can be tailored to any style. Hurry in to discover these unique bracelets, rings, necklaces, cuffs and earrings. The discreet or imposing marvels are available in a range of vibrant colours and can be personalised to suit your taste.
Les Néréides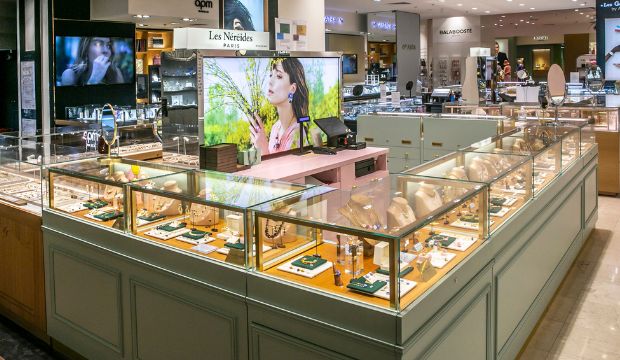 Founded in 1980, the French company Les Néréides draws its expertise from the world of fine jewellery to create quality pieces at reasonable prices. The brand is inspired by nature, mythology and animals, and designs poetic jewellery collections with a gentle touch. From rings to bracelets to earrings, these handcrafted, refined and romantic pieces come in a range of vibrant colours for a unique, sunny style. A unique jewellery line at Galeries Lafayette Paris Haussmann.
Djula
Launched by Alexandre Carrot in 1997, Djula is one of the most popular jewellery brands among celebrities such as Rihanna and Beyoncé. In the beginning, Djula designed costume jewellery before moving on to more delicate pieces. Since then, the house has been shaking up conventions with its avant-garde, intense and modern adornments, inspired by glam rock, the neo-bourgeois trend and travel. The diamond has a prominent place in the brand's creations, which cause a sensation on red carpets all over the world.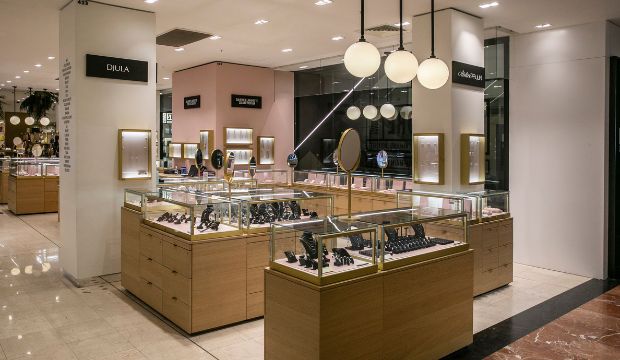 Gas Bijoux
Since 1969, Gas Bijoux has been the benchmark for costume jewellery with its collections of affordable designs made in a workshop in the heart of Marseille. Inspired by the sun and the sea, Gas Bijoux creations are sunny, colourful and inventive. Slightly retro but ultra-elegant, Gas Bijoux sparkles with its handcrafted character pieces, which are already a favourite among trendsetters. These jewellery lovers uphold the sunny elegance of the south by creating a whole range of mother-of-pearl earrings, elegant gold bracelets, dizzying long necklaces and colourful cuffs for each season. Gas Bijoux also takes its place in men's wardrobes with exceptional, vibrant, timeless jewellery.
Jewellery department – Ground floor of the Lafayette Coupole